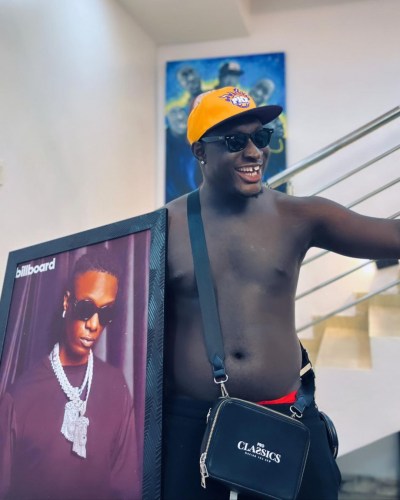 Wizkid is "The Machala" of Africa Music, a word that translates to "King", "Lion" and everything else that attributes to royalty. Well, it's also said, according to the gist, that these dudes (Carter Efe) actually met Wizkid in Ghana. If you ask me? That's worth a mine field of inspiration. So, now you know why the guys gave their best on this wavy soundtrack; dedicated to Wizkid; The "Machala".
Not only is this song trendy; and superfluously intense; but it also has the rhythmic structure of the new Afrobeats sound-making round all over the world. Both Carter Efe and Berri Tiga brought their game on; the attack and delivery are submerged and confident. The magnificent sound of their thrilling vocals cutting over the edge of the percussion line and swirling over the baseline is commendable. And also, X got a Pop flame wrung into an intoxicated Afro rhythm that gave the feeling you get when you hear;
"Haaaa, gat me looking like Machala o
I jam Wizkid for Ghana o
When I dance like makossa
People dey craze for Instagram"
Once that chorus comes in, you'd just know that this is a game, and you are hooked! And then with Berri Tiga's verse cutting through the speakers, you are set to step into the groovy groove. The song is mostly themed on finesse, getting paid, and having that soft life.
Well… my guy…, see babe…, the fact is.., feeling the energy of the song, Carter Efe's original aim to meet his number one celebrity in Ghana; both as a fan and a mentee; is damn worth a thousand of inspiration. It's incredible to see him set off with such an amazing work of art from such inspiration.
"Machala" will probably top the charts all over the nation before the week runs out; because the radio value, and proficient sequence of the beat is sufficient for any Dj to get a party down in any club; whatsoever.
The expectation to this work here is to be understood from the effort of creating a hit; all from the energy of great inspiration of meeting your celebrated idol; and now that has birthed this classic banger.
Get "Machala" a classic record to hear in these sunny days HERE.