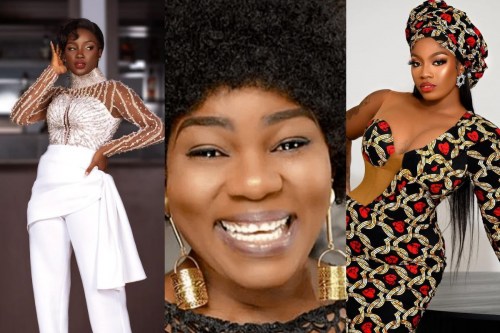 Big Brother Naija Alumnus, Saskay, and Angel Smith have mourned the death of Nollywood actress, Ada Ameh.
The celebrities each took to their social media pages to express hurt over the unfortunate incident that has left many heartbroken.
Saskay shared that she had met Ada on set and could not help but think of the grief she could be experiencing following her mental health videos.
Angel, on the other hand, disclosed her love for Ada Ameh and her movies and Tv shows. She also wished her a better place in heaven.
In Saskay's words;
I met this woman once on set and she was so sweet like she had known me before. All I could think of was the grief she was experiencing, cause I had seen several videos where she spoke about her mental health. This is really sad. Rest well Ada Ameh.
Angel wrote;
The fact that we have to experience grief at some point in our lives and then try to live with such an intense emotion is so mind-blowing. If the news is true, Rest well Ada Ameh. I love watching you on tv. I hope you're at a place where the pain is a fiction of our imagination.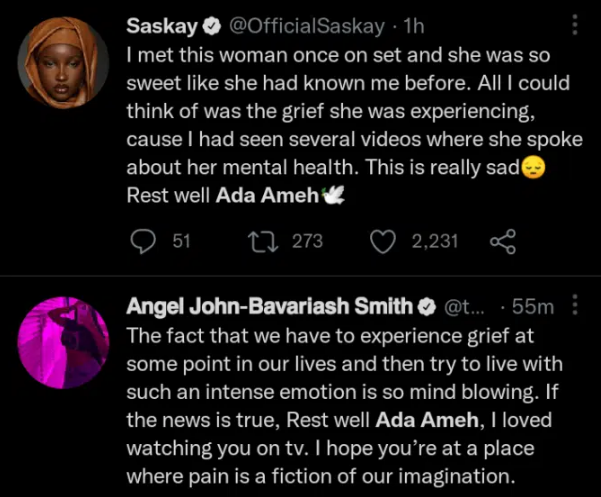 On Sunday afternoon, Ada Ameh had opted for a video of herself having lunch with friends. The following morning, the news of her demise hit the internet, sending a shock to all Nigerians.
May her soul continue to rest in peace.