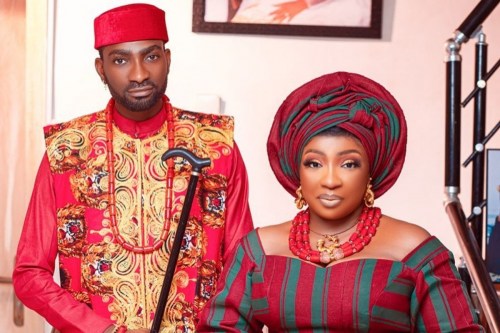 Ace thespian, Anita Joseph has shed light on factors that will never make her marriage to her hubby, Micheal Olagunju, also known as MC Fish crash.
Anita's marriage has constantly been a source of controversy on the internet, owing to how she relates to her husband.
The couple publicly displays affection for each other, without a care in the world and trolls think their marriage will soon head for the rocks.
Contrary to popular belief, the actress, has, however, stepped forward to shed light on why her marriage will not be crashing anytime soon.
According to her, her mother thought her to stay mute, while her husband is talking, instead of talking back at him. Anita says she will never stop posting her happy moments online.
She said;
Whenever, a colleague's marriage crash, these online trolls will come to face me. One told me recently that it is remaining me. However, I feel pity for the people dragging me because they are giving me more reasons to post more romantic moments with my husband on social media.
They won't ever stop me from posting my happy moments, never. Celebrity marriage is not easy, we face a lot of pressure out there but you must be stubborn and insist that yours works.
Again, I knew what I wanted before going into marriage and what my mother taught me about marriage is still imbedded in me.
She taught me to always shut up when my husband is talking and not to talk back; especially in arguments. Two captains can't be in one ship. Not like you can't say your piece but there's a time to pause and let him talk. These things are not easy but for two to work you must agree.