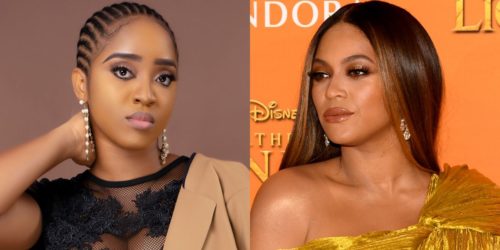 The internet was abuzz with activities following the release of Beyonce's Lion King Album which featured a couple of Nigerian acts to include Wizkid and Yemi Alade.
Bey, as she is fondly called, had Wizkid on the track 'Brown Skin Girl,' a track that has since gone on to become a favourite for millions across the globe, prompting many to cover the song.
One of the thousands that have since covered the song is Nigerian singer Maj, who not only decided to jump on the song but also refixed it centring her message around light skin girls and immediately triggering millions who have at some point in their lives been victims of colorism and racism.
Maj's video in no time went viral in turn garnering backlash and more exposure and in no time caught the attention of BET who interviewed the upcoming singer to further understand why she decided on refixing the song.
In Maj's words; "My intention was simply to spread love. It's all about love. The original song has a beautiful positive message about self-love and acceptance. In the spirit of that, I created my version…really talking to myself and affirming myself in Beyoncé's message."
"At the end of it all, we are all black women. We face the same struggles and have to overcome the same obstacles. Changing the lyrics to Light Skin Girl was never meant to be divisive…it was all about my desire to see myself in the celebration of melanated beauty."
On the negative responses received, she said; "I'm most disappointed that me changing the lyrics was seen as disrespect to the overall message of self-love and pride in one's complexion," she said.
She added, "However, I am an artist, and if nothing else, this has blasted open the doors on the conversations about colorism and inclusion; self-hate and self-love. If I can ever be a part of something that brings dialogue to the forefront, I'm for it."