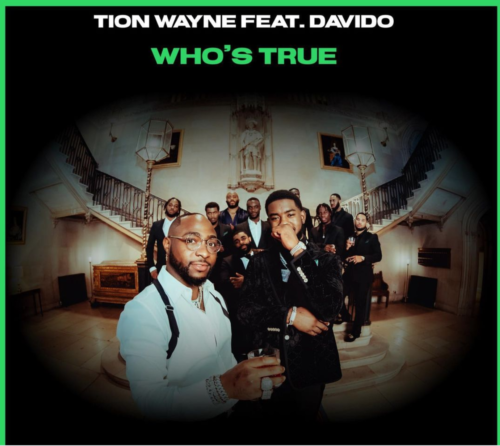 "Who's True Lyrics" – Tion Wayne feat Davido
Talented British-Nigerian rapper, Dennis Junior Odunwo, known professionally as Tion Wayne links up with Davido on this new record titled "Who's True", Check out the Lyrics below
LYRICS
Davido
Gyal, don't play hard, I know you wanna go yard with me
She act like she never knew I'm a superstar
Ask your girls they know who we are
Shit we done to get where we are
Pray and hope i don't see karma
All them nights I was on my last
I thank God that's to the past
Oh Lord, show me who's true
She said she seen me on Youtube
I think she's done Juju
Love can turn man to a fool
Don't wanna meet no one new (Uh-huh)
'cause I don't know who's who (Come on, come on)
Show me who's true (Yeah, Tion Wayne from the 9)
JAE5
Verse 1 (Tion)
Yo, my life like a film
She ask how I make a mill' and still go on a drill
My ting in Tottenham said she wan' fuck with the real
I pray my brothers mad mix, come get his appeal
Only fuck with the real, only some left
Was running from the old bill, now they upset
If love don't really cost a thing, what's the concept?
Cocktails, sipping on the beach up in Dom Rep
Cases I caught were no misdemeanors
And we take .44 just to lick the dealers
Hit the heaters, so I kiss and treat her
All our problems got smoked like Wiz Khalifa
Remember 20 bag licks, I wanted it all
Now for a 100 bag lick, I hang up the call
And all these people show me love but want me to fall
But a wise man never said nothing at all
Chorus (DaVido)
Gyal, don't play hard, I know you wanna go yard with me
She act like she never knew I'm a superstar
Ask your girls they know who we are
Shit we done to get where we are
Pray and hope i don't see karma
All them nights I was on my last
I thank God that's to the past
Oh Lord, show me who's true
She said she seen me on Youtube
I think she's done Juju
Love can turn man to a fool
Don't wanna meet no one new
'cause I don't know who's who
Show me who's true
Verse 2
From the 9, see her step so class
Every time I think about her sex, oh god
She a 10, so smart, make my head go
Making all my friends go gwan
Yo, all about my paper
Got rich now, everybody want a favour
But my babes told me "never put yourself in danger"
Said "you're up now, why you rolling with a shaver?"
Life changed from a L, free my real niggas, get the fake in the jail
She acting all funny like Dave Chapple
but I see her teeth grinning when I gave her Chanel
Who's true?
Don't know who's true
Don't know who's true
Who's true?
Chorus
Gyal, don't play hard, I know you wanna go yard with me
She act like she never knew I'm a superstar
Ask your girls they know who we are
Shit we done to get where we are
Pray and hope i don't see karma
All them nights I was on my last
I thank God that's to the past
Oh Lord, show me who's true
She said she seen me on Youtube
I think she's done Juju
Love can turn man to a fool
Don't wanna meet no one new
'cause I don't know who's who
Show me who's true
Outro
So gyal, don't play hard
I know you wanna go yard with me, yeah
She act like she never knew I'm a superstar, oh-oh-oh, yeah
Shit we done, oh-yeah