Mayorkun Shares '12 Self-Motivational Tips' On How To Be Successful, With Nigerians #Arewapublisize
Nigerian musician and entertainer, Mayorkun woke up with some motivational vibes this morning, as he dishes advice to his fans and Nigerians as a whole via Snapchat.
The DMW signee advised Nigerians to save money for their retirement while they are enjoying their youths. Working hard for one's money is better than depending on friends and family because they will eventually let you down. He also talked about not indulging in what one doesn't like at first instance, if not, you will be taken for granted.
See the 12 Self-Motivation Tips
Mayorkun
shared on his Snap
*Enjoy your youth but save for retirement*
*Your Bad Character Will Give You Out Eventually*
*Family can fuck you up*
*Get Sense for Lagos*
*You got something to say? Say it, don't hold it in (Not me tho, I leave)*
*Know your lane before trailer use you do driving test*
*People wey dey ok for my country no many like that*
*If you want it, work it*
*There's a higher chance to get it by work than by luck*
*Don't indulge/tolerate whatever you don't like on first instance, that's the first door see finish/disrespect*
*Sleep with one eye closed*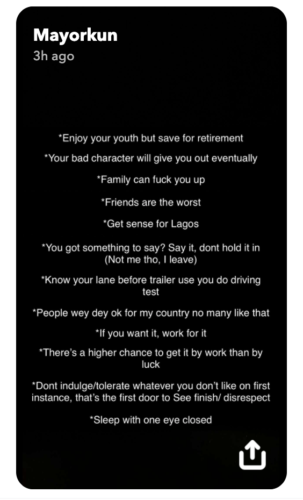 The Afro-pop star's fans have reacted to his message in more ways than one. Here are some reactions:
t's so rare to see this guy talk out this way
I like his calmness and business minding ehn
Hmm there's a higher chance of getting it by hardwork than luck