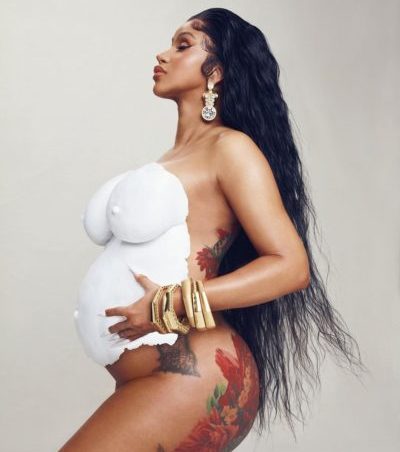 Popular American rapper,
Cardi B
has revealed she's expecting another 'Bardi Baby' with her partner, Offset.
The award-winning rapper debuted her baby bump during a live performance with Migos at the BET Awards in Los Angeles.
Watch Cardi and The Migos Perform their hits; Straightenin' and Type Sh*t Live on the BET Stage.
Following the announcement, Cardi B also shared beautiful photos from her pregnancy shoot with her daughter, Kulture, and Offset. With the caption; "I just know these two will love each other soo much and argue soo much since they're 3 years apart…just like me and Henny ?. But one thing for sure is they'll have each other's back like no one else ever will"
See Her Sexy Baby Bump Photo With Hubby, Offset
Over the

years, Cardi B has proven that she's the queen of surprises and secrets. In 2018, she also debuted her previous baby bump during her Saturday Night Live performance, confirming that she was very pregnant with daughter Kulture.

Though she and Offset announced their divorce the same year, the two appear to have since rekindled their relationship as they await the arrival of their second child